My first collie from the beautiful Tokalan, Windcall lines, had the intelligence, the beauty and sensitivity to human feelings that I strove to emulate in the collies I have bred since 1968 when I purchased my first puppy. He saved both a baby from drowning, and a lost and trapped German Sheppard from the woods, and on his dying night, Christmas eve, brought his weary body down cellar steps to protect me from an intruder. He had several obedience titles, and has been a model for the many champions he proceeded that now are in countries throughout the world. My foundation bitch, Canadian champion Debhill Milas Ramona, was Vi-lee, Parader bloodlines.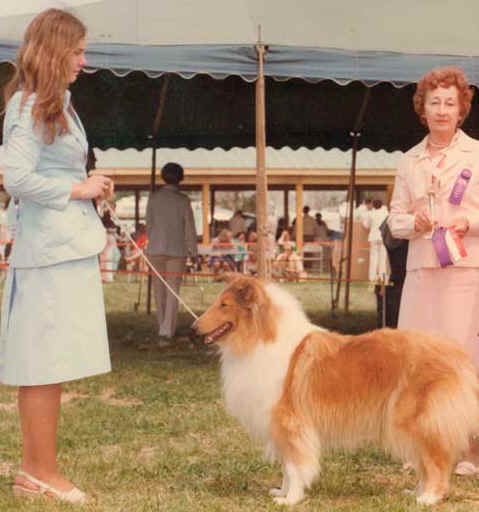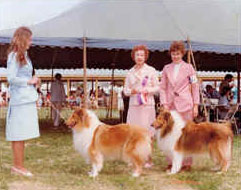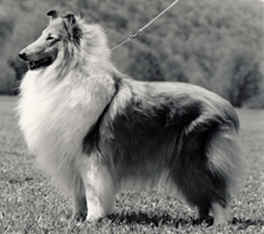 Ch. Milas Natural High / Ch. Milas Gold in the Clouds
I had a wonderful mentor, Lilah Bates, from Heathfield collies, a judge , collie, and horse breeder, who took me to England on a buying trip for horses and collies, where I saw for the first time English champion Bririch Gold Emblem, the crufts winner, who she purchased, and brought back to the US.
Most of the Americans had not seen a top English dog as they were not imported into the US but were bought by the Europeans and Australians who were willing to pay the high price demanded for them. Gold Emblem had the beauty, elegance and Intelligence I had been looking for, and I bred to him.
The Americans were not interested at that time in these pups. It was as though I had bred to a different species. I was not able to sell the pups as show dogs, even though they were beautiful but kept two for myself, which became top champions and champion producers, ch. Milas Natural High, dam of six champions including ch. Milas gold in the clouds, ch milas puff 'n stuff c.d. and milas Tessa,who was bred to ch clarion nightrider, a dog similar in type to the three offspring Tessa, who was the dam of ch. Milas formal sneakers sire of 14 champions. His famous daughter, ch. Milas Glory Bound, a Westminster best of breed winner and top collie in the east and top female in the country in 1986 were among some of the great offspring that came from this original blending of American breeding.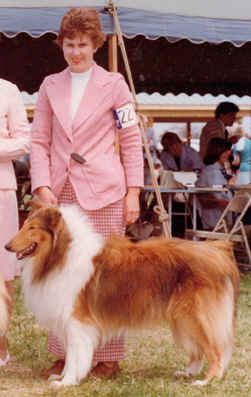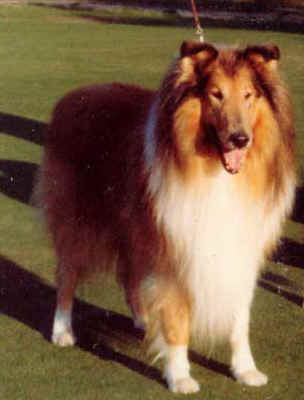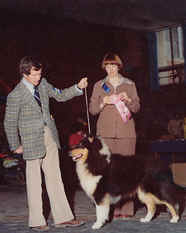 Ch. Milas Puff 'N' Stuff CD
English Champion Bririch Gold Emblem (10 yr)
Ch. Milas Formal Sneakers
One great Brazilian breeder, Alex deCarvallo of Lakefield collies spotted ch milas gold in the clouds and found that we had both the same vision of the collie and many of the same American English bloodlines, and brought back several of the littermates to champion milas gold in the cloud, ch milas justin bronze, ch milas vanity fair, and later, Antonio Piagge bought a daughter of ch milas glory bound, ch milas glory be, milas daydream believer, who went to Lakefield collies produced two ch. Males, Lakefield Loaf and Leaf, who went on to produce over 42 champions for Lakefield. Other milas dogs, which combined with the the lakefield dogs produced many champions in Brazil, Argentina, Paraguay, England, and other European countries.
Scandanavia, and Japan. The akc did not did not register South American dogs in the days I sold these dogs to Brazil, so I never expected to have dogs back from Brazil.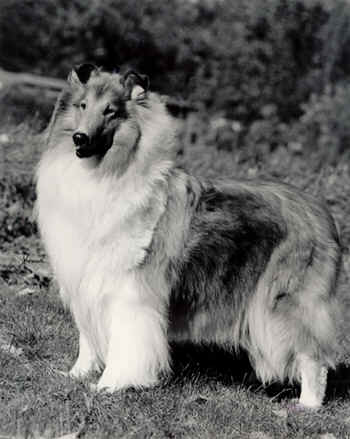 Ch. Milas Glory Bound
In 1988, Lotta Hedman came from Sweden to work with me, which gave me a chance to work more with my photography , Museum exhibitions and books that accompany the shows, my horse breeding, and she helped to breed and handle the dogs, deliver the horse babies, and we were given a present of a puppy descended from these dogs by Marcos Vinagre, a Brazilian breeder to breed to our last direct decendent lakewinds dancestep of milas, ch windhaven stranger in paradice, who produced a litter of ch milas latin dancer, Collie Club of America winner at nine months old, ch. Milas latin fever, ch milas latin Lover, ch milas absolute Latin, and ch milas latin diva.
Through Macho, and the other lakefield bitches that have come to me, and the males I now have sent back to Brazil, we continue to strive to breed the best international collies we can breed.
| | | |
| --- | --- | --- |
| | | |
| Ch. Milas After the Party | | Ch. Milas Painted with Light |
| | | |
| Ch. Milas Soft Spoken Blue | | |
| | | |
| Ch. Milas Eastern Standard | Ch. Milas Kimit Glittering Gem | |